HP OpenView Performance Manager
HP OpenView Performance Manager provides an agent-based centralized data collection solution.
OVPM stores collected statistics in files on the local file system for a period of several months.
Axibase Collector queries OVPM server to continuously offload incremental data in GLOBAL and other classes into Axibase Time Series Database for long-term retention and operations analytics.
See HP OPVM integration instructions for technical details.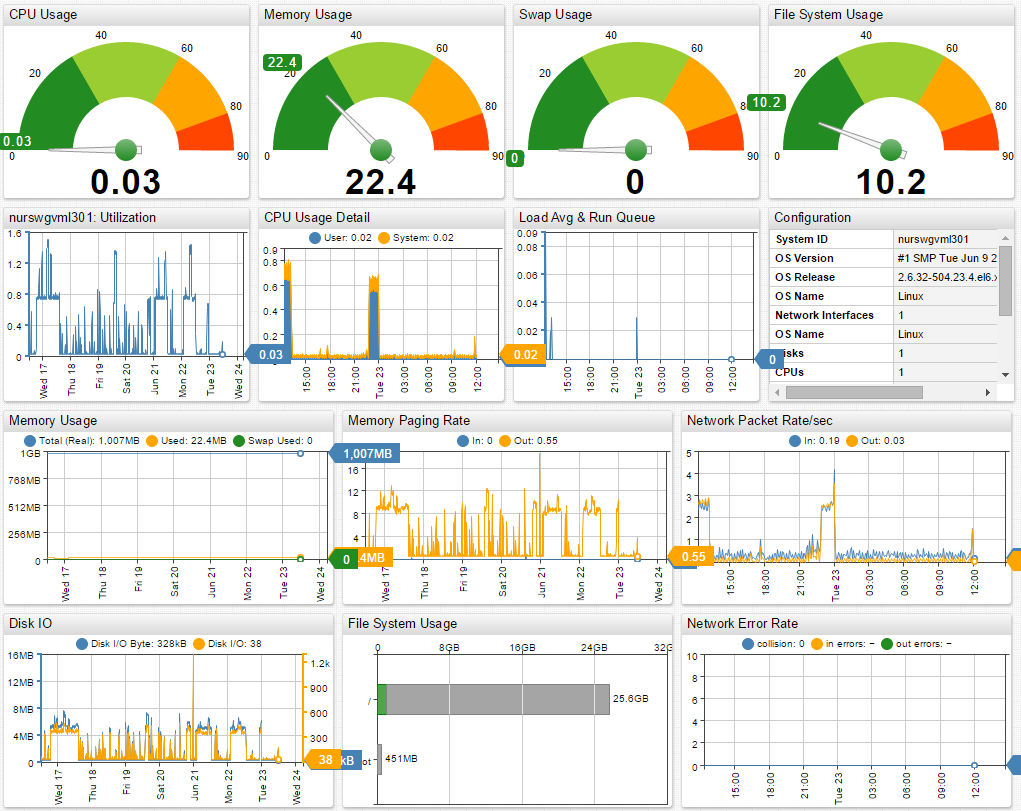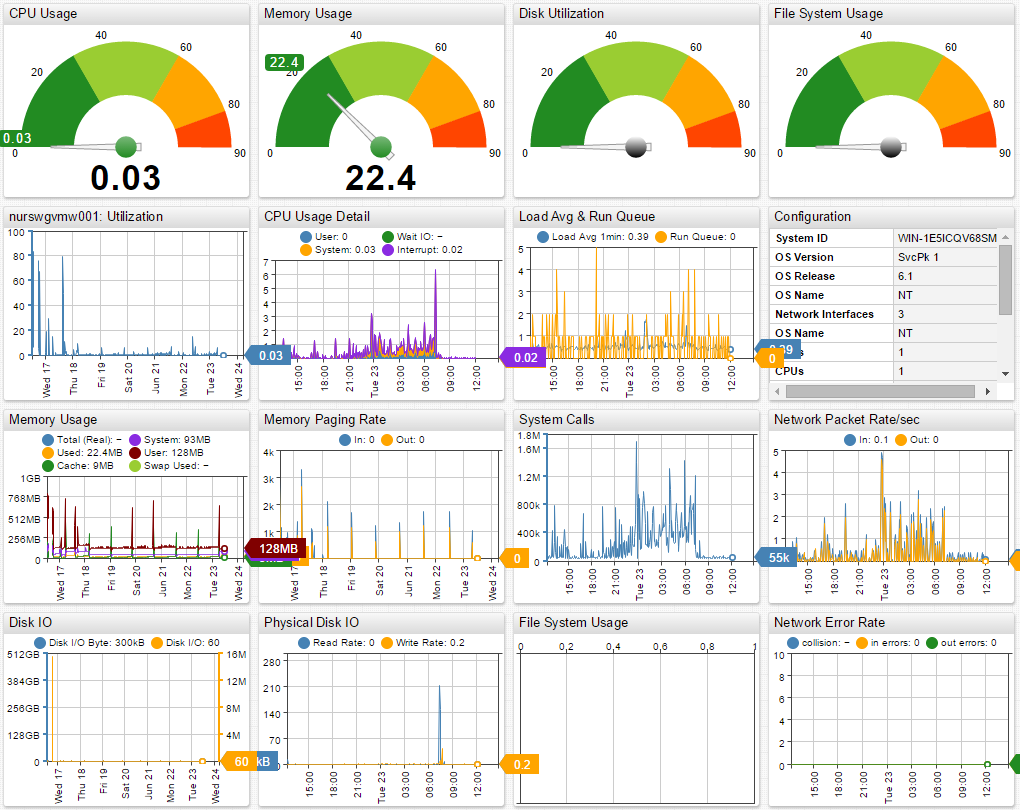 Collected HP OpenView Metrics
fs_max_size
fs_space_used
fs_space_util
gbl_cpu_idle_util
gbl_cpu_sys_mode_util
gbl_cpu_total_util
gbl_cpu_user_mode_util
gbl_disk_phys_byte
gbl_disk_phys_byte_rate
gbl_disk_phys_io
gbl_disk_phys_io_rate
gbl_fs_space_util_peak
gbl_mem_pagein
gbl_mem_pagein_rate
gbl_mem_pageout
gbl_mem_pageout_rate
gbl_mem_phys
gbl_mem_swapin_byte
gbl_mem_swapin_byte_rate
gbl_mem_swapout_byte
gbl_mem_swapout_byte_rate
gbl_mem_util
gbl_net_collision
gbl_net_collision_rate
gbl_net_error
gbl_net_error_rate
gbl_net_in_packet
gbl_net_in_packet_rate
gbl_net_out_packet
gbl_net_out_packet_rate
gbl_run_queue
gbl_started_proc
gbl_started_proc_rate
gbl_swap_space_avail
gbl_swap_space_used
gbl_swap_space_util
gbl_active_proc
gbl_alive_proc
gbl_completed_proc
gbl_cpu_entl_util
gbl_cpu_idle_util
gbl_cpu_interrupt_util
gbl_cpu_phys_total_util
gbl_cpu_physc
gbl_cpu_sys_mode_util
gbl_cpu_total_util
gbl_cpu_user_mode_util
gbl_cswitch_rate
gbl_disk_cache_read
gbl_disk_cache_read_rate
gbl_disk_logl_read
gbl_disk_logl_read_rate
gbl_disk_phys_byte
gbl_disk_phys_byte_rate
gbl_disk_phys_io
gbl_disk_phys_io_rate
gbl_disk_phys_read
gbl_disk_phys_read_byte_rate
gbl_disk_phys_read_pct
gbl_disk_phys_read_rate
gbl_disk_phys_write
gbl_disk_phys_write_byte_rate
gbl_disk_phys_write_rate
gbl_disk_request_queue
gbl_disk_util
gbl_disk_util_peak
gbl_loadavg
gbl_machine_mem_used
gbl_mem_cache
gbl_mem_cache_flush_rate
gbl_mem_cache_hit_pct
gbl_mem_datamap_hit_pct
gbl_mem_free
gbl_mem_free_util
gbl_mem_locked
gbl_mem_locked_util
gbl_mem_overhead
gbl_mem_page_request
gbl_mem_pagein
gbl_mem_pagein_rate
gbl_mem_pageout
gbl_mem_pageout_rate
gbl_mem_sys
gbl_mem_sys_and_cache_util
gbl_mem_sys_util
gbl_mem_user
gbl_mem_user_util
gbl_mem_util
gbl_net_deferred_pct
gbl_net_error
gbl_net_error_1_min_rate
gbl_net_error_rate
gbl_net_in_error_pct
gbl_net_in_error_rate
gbl_net_in_packet
gbl_net_in_packet_rate
gbl_net_out_error_pct
gbl_net_out_error_rate
gbl_net_out_packet
gbl_net_out_packet_rate
gbl_net_outqueue
gbl_net_packet_rate
gbl_net_util_peak
gbl_proc_run_time
gbl_proc_sample
gbl_run_queue
gbl_started_proc
gbl_swap_space_util
gbl_syscall
gbl_syscall_rate