Oracle Enterprise Manager
Oracle Enterprise Manager (Oracle EM) is a distributed application for centralized monitoring of Oracle products.
Oracle EM collects and stores statistics from remote databases, applications, and systems in an Oracle database (SYSMAN.gc$metric_values table) which Axibase Collector queries every 15 minutes to offload incremental data into Axibase Time Series Database for long-term retention and operations analytics.
See OEM integration instructions for technical details.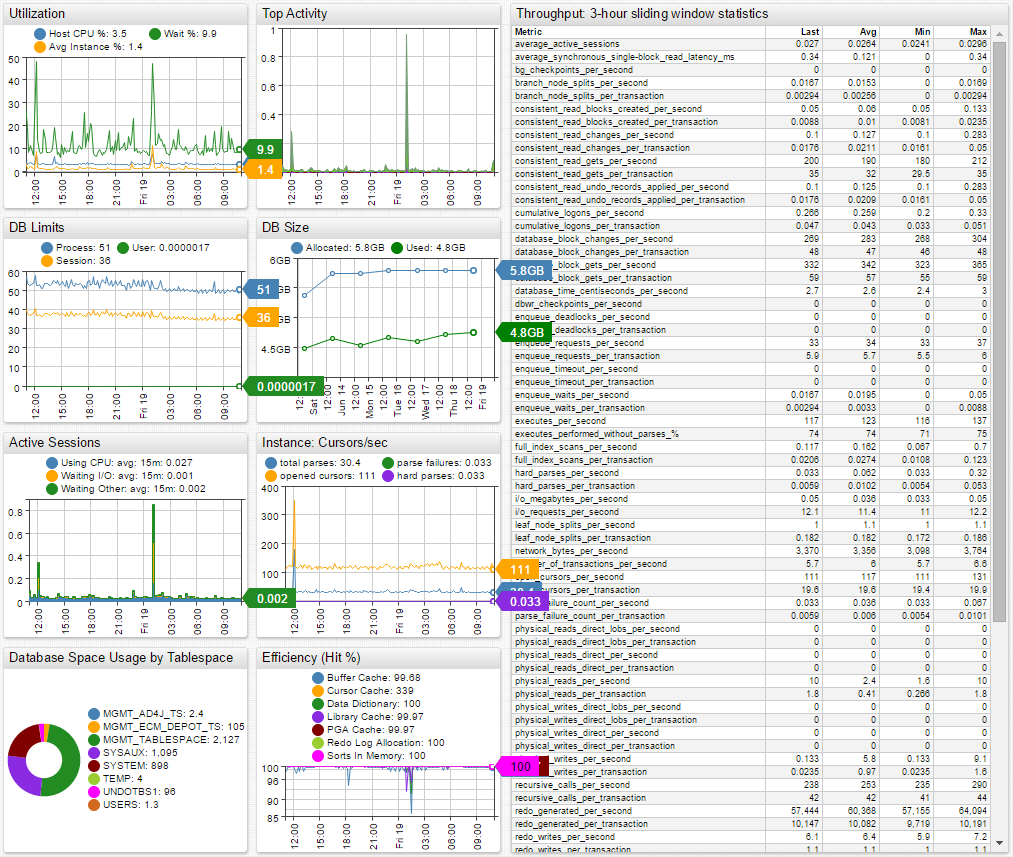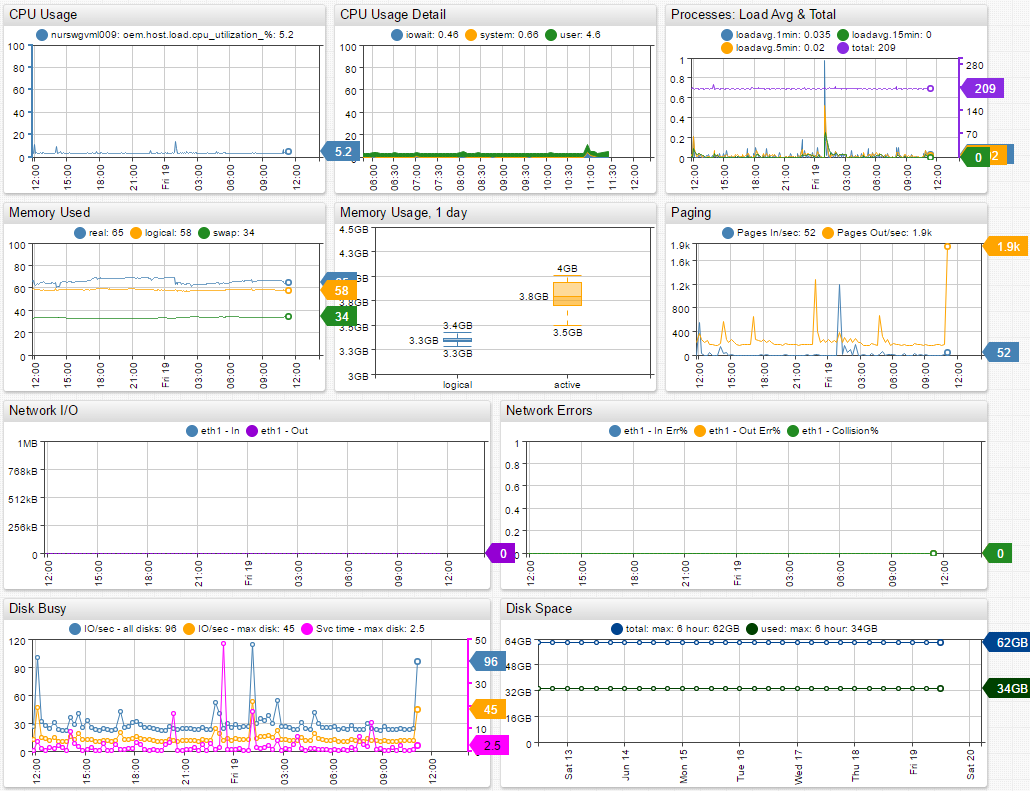 Collected Oracle Enterprise Manager Metrics
oracle_database.

archive_area

.

archive_area_used_

%


oracle_database.

archive_area

.

archive_area_used_kb


oracle_database.

archive_area

.

free_archive_area_kb


oracle_database.

archive_area

.

total_archive_area_kb


oracle_database.

database_limits

.

current_logons_count


oracle_database.

database_limits

.

current_open_cursors_count


oracle_database.

database_limits

.

process_limit_usage_

%


oracle_database.

database_limits

.

session_limit_usage_

%


oracle_database.

database_limits

.

user_limit_usage_

%


oracle_database.

database_size

.

allocated_space_gb


oracle_database.

database_size

.

used_space_gb


oracle_database.

dump_area

.

dump_area_used_

%


oracle_database.

dump_area

.

dump_area_used_kb


oracle_database.

dump_area

.

free_dump_area_kb


oracle_database.

dump_area

.

total_dump_area_kb


oracle_database.

efficiency

.

buffer_cache_hit_

%


oracle_database.

efficiency

.

cpu_usage_per_second


oracle_database.

efficiency

.

cpu_usage_per_transaction


oracle_database.

efficiency

.

cursor_cache_hit_

%


oracle_database.

efficiency

.

data_dictionary_hit_

%


oracle_database.

efficiency

.

database_cpu_time_

%


oracle_database.

efficiency

.

library_cache_hit_

%


oracle_database.

efficiency

.

library_cache_miss_

%


oracle_database.

efficiency

.

parallel_execution_downgraded_25

%

_or_more_per_second
oracle_database.

efficiency

.

parallel_execution_downgraded_50

%

_or_more_per_second
oracle_database.

efficiency

.

parallel_execution_downgraded_75

%

_or_more_per_second
oracle_database.

efficiency

.

parallel_execution_downgraded_per_second


oracle_database.

efficiency

.

parallel_execution_downgraded_to_serial_per_second


oracle_database.

efficiency

.

parallel_execution_downgraded_to_serial_per_transaction


oracle_database.

efficiency

.

pga_cache_hit_

%


oracle_database.

efficiency

.

redo_log_allocation_hit_

%


oracle_database.

efficiency

.

response_time_per_transaction


oracle_database.

efficiency

.

row_cache_miss_ratio_

%


oracle_database.

efficiency

.

sorts_in_memory_

%


oracle_database.

flash_recovery

.

flash_recovery_area_size


oracle_database.

flash_recovery

.

non

-

reclaimable_flash_recovery_area_

%


oracle_database.

flash_recovery

.

reclaimable_flash_recovery_area_

%


oracle_database.

flash_recovery

.

usable_flash_recovery_area_

%


oracle_database.

memory_usage

.

total_memory_usage_mb


oracle_database.

ocm_instrumentation

.

instrumentation_present


oracle_database.

ocm_instrumentation

.

need_to_instrument_with_ocm


oracle_database.

ocm_instrumentation

.

ocm_configured


oracle_database.

recovery_area

.

recovery_area_free_space_

%


oracle_database.

scn_growth_statistics

.

current_scn


oracle_database.

scn_growth_statistics

.

max_rate


oracle_database.

scn_growth_statistics

.

scn_health


oracle_database.

scn_growth_statistics

.

scn_total_growth_rate_per_sec


oracle_database.

scn_instance_statistics

.

scn_intrinsic_growth_rate_per_sec


oracle_database.

scn_max_statistics

.

max_scn_jump_in_one_second_last_24_hours


oracle_database.

segment_advisor_recommendations

.

number_of_recommendations


oracle_database.

sga_pool_wastage

.

java_pool_free_

%


oracle_database.

sga_pool_wastage

.

large_pool_free_

%


oracle_database.

sga_pool_wastage

.

shared_pool_free_

%


oracle_database.

system_response_time_per_call

.

response_time_centi

-

seconds_per_call
oracle_database.

tablespace_allocation

.

tablespace_allocated_space_mb


oracle_database.

tablespace_allocation

.

tablespace_used_space_mb


oracle_database.

tablespaces_full

.

tablespace_free_space_mb


oracle_database.

tablespaces_full

.

tablespace_space_used_

%


oracle_database.

throughput

.

average_active_sessions


oracle_database.

throughput

.

average_synchronous_single

-

block_read_latency_ms
oracle_database.

throughput

.

bg_checkpoints_per_second


oracle_database.

throughput

.

branch_node_splits_per_second


oracle_database.

throughput

.

branch_node_splits_per_transaction


oracle_database.

throughput

.

consistent_read_blocks_created_per_second


oracle_database.

throughput

.

consistent_read_blocks_created_per_transaction


oracle_database.

throughput

.

consistent_read_changes_per_second


oracle_database.

throughput

.

consistent_read_changes_per_transaction


oracle_database.

throughput

.

consistent_read_gets_per_second


oracle_database.

throughput

.

consistent_read_gets_per_transaction


oracle_database.

throughput

.

consistent_read_undo_records_applied_per_second


oracle_database.

throughput

.

consistent_read_undo_records_applied_per_transaction


oracle_database.

throughput

.

cumulative_logons_per_second


oracle_database.

throughput

.

cumulative_logons_per_transaction


oracle_database.

throughput

.

database_block_changes_per_second


oracle_database.

throughput

.

database_block_changes_per_transaction


oracle_database.

throughput

.

database_block_gets_per_second


oracle_database.

throughput

.

database_block_gets_per_transaction


oracle_database.

throughput

.

database_time_centiseconds_per_second


oracle_database.

throughput

.

dbwr_checkpoints_per_second


oracle_database.

throughput

.

enqueue_deadlocks_per_second


oracle_database.

throughput

.

enqueue_deadlocks_per_transaction


oracle_database.

throughput

.

enqueue_requests_per_second


oracle_database.

throughput

.

enqueue_requests_per_transaction


oracle_database.

throughput

.

enqueue_timeout_per_second


oracle_database.

throughput

.

enqueue_timeout_per_transaction


oracle_database.

throughput

.

enqueue_waits_per_second


oracle_database.

throughput

.

enqueue_waits_per_transaction


oracle_database.

throughput

.

executes_per_second


oracle_database.

throughput

.

executes_performed_without_parses_

%


oracle_database.

throughput

.

full_index_scans_per_second


oracle_database.

throughput

.

full_index_scans_per_transaction


oracle_database.

throughput

.

hard_parses_per_second


oracle_database.

throughput

.

hard_parses_per_transaction


oracle_database.

throughput

.

i

/

o_megabytes_per_second
oracle_database.

throughput

.

i

/

o_requests_per_second
oracle_database.

throughput

.

leaf_node_splits_per_second


oracle_database.

throughput

.

leaf_node_splits_per_transaction


oracle_database.

throughput

.

network_bytes_per_second


oracle_database.

throughput

.

number_of_transactions_per_second


oracle_database.

throughput

.

open_cursors_per_second


oracle_database.

throughput

.

open_cursors_per_transaction


oracle_database.

throughput

.

parse_failure_count_per_second


oracle_database.

throughput

.

parse_failure_count_per_transaction


oracle_database.

throughput

.

physical_reads_direct_lobs_per_second


oracle_database.

throughput

.

physical_reads_direct_lobs_per_transaction


oracle_database.

throughput

.

physical_reads_direct_per_second


oracle_database.

throughput

.

physical_reads_direct_per_transaction


oracle_database.

throughput

.

physical_reads_per_second


oracle_database.

throughput

.

physical_reads_per_transaction


oracle_database.

throughput

.

physical_writes_direct_lobs_per_second


oracle_database.

throughput

.

physical_writes_direct_lobs_per_transaction


oracle_database.

throughput

.

physical_writes_direct_per_second


oracle_database.

throughput

.

physical_writes_direct_per_transaction


oracle_database.

throughput

.

physical_writes_per_second


oracle_database.

throughput

.

physical_writes_per_transaction


oracle_database.

throughput

.

recursive_calls_per_second


oracle_database.

throughput

.

recursive_calls_per_transaction


oracle_database.

throughput

.

redo_generated_per_second


oracle_database.

throughput

.

redo_generated_per_transaction


oracle_database.

throughput

.

redo_writes_per_second


oracle_database.

throughput

.

redo_writes_per_transaction


oracle_database.

throughput

.

rows_processed_per_sort


oracle_database.

throughput

.

scans_on_long_tables_per_second


oracle_database.

throughput

.

scans_on_long_tables_per_transaction


oracle_database.

throughput

.

session_logical_reads_per_second


oracle_database.

throughput

.

session_logical_reads_per_transaction


oracle_database.

throughput

.

soft_parse_

%


oracle_database.

throughput

.

sorts_to_disk_per_second


oracle_database.

throughput

.

sorts_to_disk_per_transaction


oracle_database.

throughput

.

total_index_scans_per_second


oracle_database.

throughput

.

total_index_scans_per_transaction


oracle_database.

throughput

.

total_parses_per_second


oracle_database.

throughput

.

total_parses_per_transaction


oracle_database.

throughput

.

total_table_scans_per_second


oracle_database.

throughput

.

total_table_scans_per_transaction


oracle_database.

throughput

.

user_calls_

%


oracle_database.

throughput

.

user_calls_per_second


oracle_database.

throughput

.

user_calls_per_transaction


oracle_database.

throughput

.

user_commits_per_second


oracle_database.

throughput

.

user_commits_per_transaction


oracle_database.

throughput

.

user_rollback_undo_records_applied_per_second


oracle_database.

throughput

.

user_rollback_undo_records_applied_per_transaction


oracle_database.

throughput

.

user_rollbacks_per_second


oracle_database.

throughput

.

user_rollbacks_per_transaction


oracle_database.

user_audit

.

audited_user_session_count


oracle_database.

wait_bottlenecks

.

active_sessions_using_cpu


oracle_database.

wait_bottlenecks

.

active_sessions_waiting

:

_i

/

o
oracle_database.

wait_bottlenecks

.

active_sessions_waiting

:

_other
oracle_database.

wait_bottlenecks

.

average_instance_cpu_

%


oracle_database.

wait_bottlenecks

.

host_cpu_utilization_

%


oracle_database.

wait_bottlenecks

.

wait_time_

%


oracle_database.

waits_by_wait_class

.

average_users_waiting_count


oracle_database.

waits_by_wait_class

.

database_time_spent_waiting_

%
host.

cpu_usage

.

cpu_idle_time_

%


host.

cpu_usage

.

cpu_system_time_

%


host.

cpu_usage

.

cpu_user_time_

%


host.

cpu_usage

.

cpu_utilization_

%

_of_a_cpu
host.

disk_activity_summary

.

max_average_disk_i

/

o_service_time_ms_amongst_all_disks
host.

disk_activity_summary

.

max_disk_i

/

o_per_sec_made_by_a_single_disk
host.

disk_activity_summary

.

total_disk_i

/

o_made_across_all_disks_per_second
host.

file_and_directory_monitoring

.

file_or_directory_size_change_rate_kb

/

minute
host.

file_and_directory_monitoring

.

file_or_directory_size_mb


host.

filesystems

.

filesystem_size_mb


host.

filesystems

.

filesystem_space_available_

%


host.

filesystems

.

filesystem_space_available_mb


host.

load

.

active_logical_memory_kilobytes


host.

load

.

active_memory_kilobytes


host.

load

.

cpu_in_i

/

o_wait_

%


host.

load

.

cpu_in_system_mode_

%


host.

load

.

cpu_in_user_mode_

%


host.

load

.

cpu_utilization_

%


host.

load

.

free_memory_

%


host.

load

.

logical_free_memory_

%


host.

load

.

memory_page_scan_rate_per_second


host.

load

.

memory_utilization_

%


host.

load

.

run_queue_length_15_minute_average_per_core


host.

load

.

run_queue_length_1_minute_average_per_core


host.

load

.

run_queue_length_5_minute_average_per_core


host.

load

.

swap_utilization_

%


host.

load

.

total_processes


host.

load

.

total_users


host.

load

.

used_logical_memory_

%


host.

network_interfaces

.

network_interface_collisions_

%


host.

network_interfaces

.

network_interface_combined_utilization_

%


host.

network_interfaces

.

network_interface_input_errors_

%


host.

network_interfaces

.

network_interface_output_errors_

%


host.

network_interfaces

.

network_interface_read_mb

/

s
host.

network_interfaces

.

network_interface_read_utilization_

%


host.

network_interfaces

.

network_interface_total_error_rate_

%


host.

network_interfaces

.

network_interface_total_i

/

o_rate_mb

/

sec
host.

network_interfaces

.

network_interface_write_mb

/

s
host.

network_interfaces

.

network_interface_write_utilization_

%


host.

network_interfaces_summary

.

all_network_interfaces_combined_utilization_

%


host.

network_interfaces_summary

.

all_network_interfaces_read_rate_mb

/

sec
host.

network_interfaces_summary

.

all_network_interfaces_read_utilization_

%


host.

network_interfaces_summary

.

all_network_interfaces_total_i

/

o_rate_mb

/

sec
host.

network_interfaces_summary

.

all_network_interfaces_write_rate_mb

/

sec
host.

network_interfaces_summary

.

all_network_interfaces_write_utilization_

%


host.

paging_activity

.

active_pages


host.

paging_activity

.

pages_paged

-

in_per_second
host.

paging_activity

.

pages_paged

-

out_per_second
host.

paging_activity

.

pages_scanned_by_page_stealing_daemon_per_second


host.

program_resource_utilization

.

program_s_max_cpu_time_accumulated_minutes


host.

program_resource_utilization

.

program_s_max_cpu_utilization_

%


host.

program_resource_utilization

.

program_s_max_process_count


host.

program_resource_utilization

.

program_s_max_resident_memory_mb


host.

program_resource_utilization

.

program_s_min_process_count


host.

program_resource_utilization

.

program_s_total_cpu_time_accumulated_minutes


host.

program_resource_utilization

.

program_s_total_cpu_utilization_

%


host.

storage_summary

.

asm_storage_allocated_gb


host.

storage_summary

.

asm_storage_metric_collection_errors


host.

storage_summary

.

asm_storage_overhead_gb


host.

storage_summary

.

asm_storage_unallocated_gb


host.

storage_summary

.

databases_storage_free_gb


host.

storage_summary

.

databases_storage_metric_collection_errors


host.

storage_summary

.

databases_storage_used_gb


host.

storage_summary

.

disk_storage_allocated_gb


host.

storage_summary

.

disk_storage_unallocated_gb


host.

storage_summary

.

host_storage_metric_collection_errors


host.

storage_summary

.

host_summarized


host.

storage_summary

.

local_file_systems_storage_free_gb


host.

storage_summary

.

local_file_systems_storage_used_gb


host.

storage_summary

.

number_of_asm_instances_summarized


host.

storage_summary

.

number_of_databases_summarized


host.

storage_summary

.

other_mapping_errors


host.

storage_summary

.

total_number_of_asm_instances


host.

storage_summary

.

total_number_of_databases


host.

storage_summary

.

total_storage_allocated_gb


host.

storage_summary

.

total_storage_free_gb


host.

storage_summary

.

total_storage_overhead_gb


host.

storage_summary

.

total_storage_unallocated_gb


host.

storage_summary

.

total_storage_used_gb


host.

storage_summary

.

unmonitored_nfs_server_mapping_errors


host.

storage_summary

.

volumes_storage_allocated_gb


host.

storage_summary

.

volumes_storage_overhead_gb


host.

storage_summary

.

volumes_storage_unallocated_gb


host.

storage_summary

.

writeable_nfs_storage_free_gb


host.

storage_summary

.

writeable_nfs_storage_used_gb


host.

total_disk_usage

.

total_disk_available_

%

__across_all_local_filesystems
host.

total_disk_usage

.

total_disk_size_across_all_local_filesystems_in_mb


host.

total_disk_usage

.

total_disk_space_available_across_all_local_filesystems_in_mb


host.

total_disk_usage

.

total_disk_space_utilized_across_all_local_filesystems_in_mb


host.

total_disk_usage

.

total_disk_utilized_

%

__across_all_local_filesystems
host.

zombie_processes

.

processes_in_zombie_state_

%