SolarWinds provides multi-vendor network, server, and application monitoring software for small and medium-size environments.
SolarWinds Monitor products collect and store statistics from target devices in a Microsoft SQL Server database (SolarWindsOrion) which Axibase Collector queries every 5 minutes to offload incremental data into Axibase Time Series Database for long-term retention and operations analytics.
See SolarWinds integration instructions for technical details.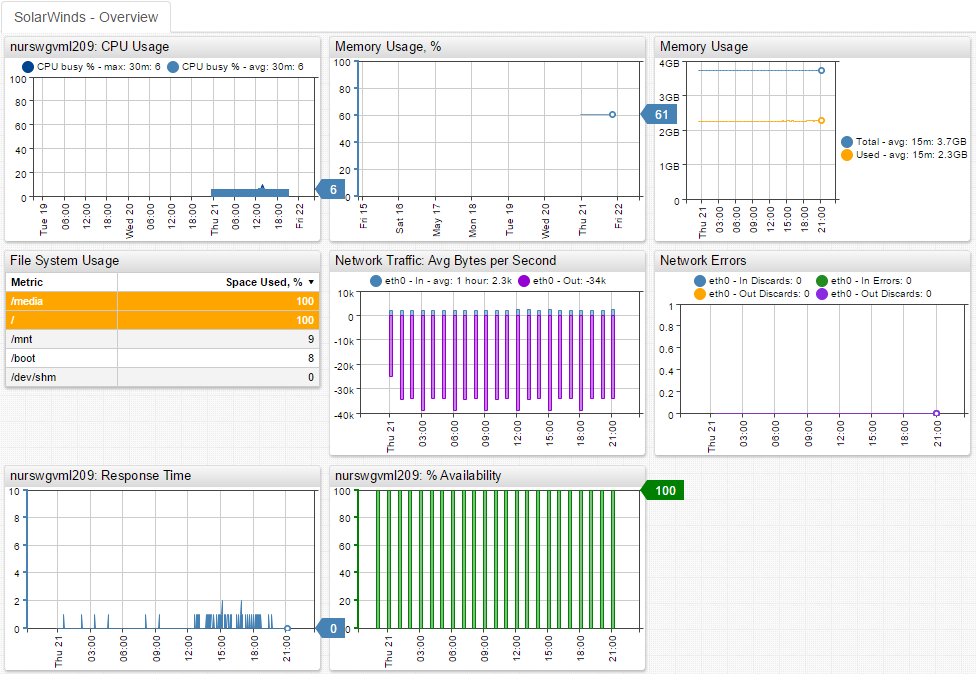 Collected SolarWinds metrics
volume_usage.

avgdiskused

	
volume_usage.

disksize


volume_usage.

percentdiskused


node_responsetime.

avgresponsetime


node_responsetime.

percentloss


interface_traffic.

in_averagebps


interface_traffic.

in_avgmulticastpkts


interface_traffic.

in_avgunicastpkts


interface_traffic.

in_totalbytes


interface_traffic.

in_totalpkts


interface_traffic.

out_averagebps


interface_traffic.

out_avgmulticastpkts


interface_traffic.

out_avgunicastpkts


interface_traffic.

out_totalbytes


interface_traffic.

out_totalpkts


interface_errors.

in_discards


interface_errors.

in_errors


interface_errors.

out_discards


interface_errors.

out_errors


cpu.

avgload


cpu.

avgmemoryused


cpu.

avgpercentmemoryused


cpu.

maxload


cpu.

maxmemoryused


cpu.

minload


cpu.

minmemoryused


cpu.

totalmemory


cpu.

costop


cpu.

demand


cpu.

entitlement


cpu.

idle


cpu.

latency


cpu.

maxlimited


cpu.

overlap


cpu.

ready


cpu.

run


cpu.

swapwait


cpu.

system


cpu.

usage


cpu.

usagemhz


cpu.

used


cpu.

wait
SolarWinds VMware Cluster
avgcpuload	
avgcpuusagemhz	
avgmemoryusage	
avgmemoryusagemb	
cpuload	
cpuloadmhz	
maxcpuload	
maxcpuusagemhz	
maxmemoryusage	
maxmemoryusagemb	
memoryusage	
memoryusagemb	
mincpuload	
mincpuusagemhz	
minmemoryusage	
minmemoryusagemb	
clusterservices.

effectivecpu

	
clusterservices.

effectivemem

	
cpu.

totalmhz

	
mem.

totalmb

	
numchangeds	
numchangehost	
numchangehostds	
numclone	
numcreate	
numdeploy	
numdestroy	
numpoweroff	
numpoweron	
numrebootguest	
numreconfigure	
numregister	
numreset	
numshutdownguest	
numstandbyguest	
numsuspend	
numsvmotion	
numunregister	
numvmotion
avgconsumedmemoryload	
avgconsumedpercentmemoryload	
avgcpuload	
avgcpuloadofhost	
avgcpuloadsumpeak	
avgcpuready	
avgcpuusagemhz	
avgiopsread	
avgiopstotal	
avgiopswrite	
avglatencyread	
avglatencytotal	
avglatencywrite	
avgmemoryusage	
avgmemoryusageofhost	
avgnetworkreceiverate	
avgnetworktransmitrate	
avgnetworkusagerate	
maxconsumedmemoryload	
maxconsumedpercentmemoryload	
maxcpuload	
maxcpuloadofhost	
maxcpuloadsumpeak	
maxcpuready	
maxcpuusagemhz	
maxiopsread	
maxiopstotal	
maxiopswrite	
maxlatencyread	
maxlatencytotal	
maxlatencywrite	
maxmemoryusage	
maxmemoryusageofhost	
maxnetworkreceiverate	
maxnetworktransmitrate	
maxnetworkusagerate	
minconsumedmemoryload	
minconsumedpercentmemoryload	
mincpuload	
mincpuloadofhost	
mincpuloadsumpeak	
mincpuready	
mincpuusagemhz	
miniopsread	
miniopstotal	
miniopswrite	
minlatencyread	
minlatencytotal	
minlatencywrite	
minmemoryusage	
minmemoryusageofhost	
minnetworkreceiverate	
minnetworktransmitrate	
minnetworkusagerate	
datastore.

maxtotallatency

	
datastore.

numberreadaveraged

	
datastore.

numberwriteaveraged

	
datastore.

read

	
datastore.

totalreadlatency

	
datastore.

totalwritelatency

	
datastore.

write

	
disk.

busresets

	
disk.

commands

	
disk.

commandsaborted

	
disk.

commandsaveraged

	
disk.

maxtotallatency

	
disk.

numberread

	
disk.

numberreadaveraged

	
disk.

numberwrite

	
disk.

numberwriteaveraged

	
disk.

provisioned

	
disk.

read

	
disk.

scsireservationconflicts

	
disk.

unshared

	
disk.

usage

	
disk.

used

	
disk.

write

	
mem.

active

	
mem.

activewrite

	
mem.

compressed

	
mem.

compressionrate

	
mem.

consumed

	
mem.

decompressionrate

	
mem.

entitlement

	
mem.

granted

	
mem.

latency

	
mem.

llswapinrate

	
mem.

llswapoutrate

	
mem.

overhead

	
mem.

overheadmax

	
mem.

shared

	
mem.

swapin

	
mem.

swapinrate

	
mem.

swapout

	
mem.

swapoutrate

	
mem.

swapped

	
mem.

swaptarget

	
mem.

usage

	
mem.

vmmemctl

	
mem.

vmmemctltarget


mem.

zero

	
mem.

zipped

	
mem.

zipsaved

	
net.

broadcastrx

	
net.

broadcasttx

	
net.

bytesrx

	
net.

bytestx

	
net.

droppedrx

	
net.

droppedtx

	
net.

multicastrx


net.

multicasttx

	
net.

packetsrx

	
net.

packetstx

	
net.

received

	
net.

transmitted

	
net.

usage

	
power.

energy

	
power.

power

	
rescpu.

actav1

	
rescpu.

actav15

	
rescpu.

actav5

	
rescpu.

actpk1

	
rescpu.

actpk15

	
rescpu.

actpk5


rescpu.

maxlimited1

	
rescpu.

maxlimited15

	
rescpu.

maxlimited5

	
rescpu.

runav1

	
rescpu.

runav15

	
rescpu.

runav5

	
rescpu.

runpk1

	
rescpu.

runpk15

	
rescpu.

runpk5

	
rescpu.

samplecount

	
rescpu.

sampleperiod

	
virtualdisk.

numberreadaveraged

	
virtualdisk.

numberwriteaveraged

	
virtualdisk.

read

	
virtualdisk.

readloadmetric

	
virtualdisk.

readoio

	
virtualdisk.

totalreadlatency

	
virtualdisk.

totalwritelatency

	
virtualdisk.

write

	
virtualdisk.

writeloadmetric

	
virtualdisk.

writeoio
cpuload
cpuusagemhz
memusage
memusagemb
networkreceiverate
networkusagerate
networkutilization
vmrunningcount
cpu.

coreutilization


cpu.

costop


cpu.

demand


cpu.

idle


cpu.

latency


cpu.

ready


cpu.

reservedcapacity


cpu.

swapwait


cpu.

totalcapacity


cpu.

usage


cpu.

usagemhz


cpu.

used


cpu.

utilization


cpu.

wait


datastore.

datastoreiops


datastore.

datastoremaxqueuedepth


datastore.

datastorenormalreadlatency


datastore.

datastorenormalwritelatency


datastore.

datastorereadbytes


datastore.

datastorereadiops


datastore.

datastorereadoio


datastore.

datastorevmobservedlatency


datastore.

datastorewritebytes


datastore.

datastorewriteiops


datastore.

datastorewriteoio


datastore.

maxtotallatency


datastore.

numberreadaveraged


datastore.

numberwriteaveraged


datastore.

read


datastore.

siocactivetimepercentage


datastore.

sizenormalizeddatastorelatency


datastore.

totalreadlatency


datastore.

totalwritelatency


datastore.

write


disk.

busresets


disk.

commands


disk.

commandsaborted


disk.

commandsaveraged


disk.

devicelatency


disk.

devicereadlatency


disk.

devicewritelatency


disk.

kernellatency


disk.

kernelreadlatency


disk.

kernelwritelatency


disk.

maxqueuedepth


disk.

maxtotallatency


disk.

numberread


disk.

numberreadaveraged


disk.

numberwrite


disk.

numberwriteaveraged

	
disk.

queuelatency

	
disk.

queuereadlatency

	
disk.

queuewritelatency

	
disk.

read

	
disk.

scsireservationconflicts

	
disk.

totallatency

	
disk.

totalreadlatency

	
disk.

totalwritelatency

	
disk.

usage

	
disk.

write

	
mem.

active

	
mem.

activewrite

	
mem.

compressed

	
mem.

compressionrate

	
mem.

consumed

	
mem.

consumed

.

userworlds

	
mem.

consumed

.

vms

	
mem.

decompressionrate

	
mem.

granted

	
mem.

latency

	
mem.

llswapinrate

	
mem.

llswapoutrate

	
mem.

lowfreethreshold

	
mem.

overhead

	
mem.

reservedcapacity

	
mem.

shared

	
mem.

sharedcommon

	
mem.

state

	
mem.

swapin

	
mem.

swapinrate

	
mem.

swapout

	
mem.

swapoutrate

	
mem.

swapused

	
mem.

sysusage

	
mem.

totalcapacity

	
mem.

unreserved

	
mem.

usage

	
mem.

vmmemctl

	
mem.

zero

	
net.

broadcastrx

	
net.

broadcasttx

	
net.

bytesrx

	
net.

bytestx

	
net.

droppedrx

	
net.

droppedtx

	
net.

errorsrx

	
net.

errorstx

	
net.

multicastrx

	
net.

multicasttx

	
net.

packetsrx

	
net.

packetstx

	
net.

received

	
net.

throughput

.

usage

.

ft


net.

throughput

.

usage

.

hbr


net.

throughput

.

usage

.

iscsi


net.

throughput

.

usage

.

nfs


net.

throughput

.

usage

.

vm


net.

throughput

.

usage

.

vmotion


net.

transmitted

	
net.

unknownprotos

	
net.

usage

	
power.

energy

	
power.

power

	
power.

powercap

	
rescpu.

actav1

	
rescpu.

actav15

	
rescpu.

actav5

	
rescpu.

actpk1

	
rescpu.

actpk15

	
rescpu.

actpk5

	
rescpu.

maxlimited1

	
rescpu.

maxlimited15

	
rescpu.

maxlimited5

	
rescpu.

runav1

	
rescpu.

runav15

	
rescpu.

runav5

	
rescpu.

runpk1

	
rescpu.

runpk15

	
rescpu.

runpk5

	
rescpu.

samplecount

	
rescpu.

sampleperiod

	
storageadapter.

commandsaveraged


storageadapter.

maxtotallatency


storageadapter.

numberreadaveraged


storageadapter.

numberwriteaveraged


storageadapter.

outstandingios


storageadapter.

queued


storageadapter.

queuedepth


storageadapter.

queuelatency


storageadapter.

read


storageadapter.

totalreadlatency


storageadapter.

totalwritelatency


storageadapter.

write


storagepath.

busresets


storagepath.

commandsaborted


storagepath.

commandsaveraged


storagepath.

maxtotallatency


storagepath.

numberreadaveraged


storagepath.

numberwriteaveraged


storagepath.

read


storagepath.

totalreadlatency


storagepath.

totalwritelatency


storagepath.

write