Axibase Introduces Full NMON Support
Axibase has added full support for nmon UNIX system performance monitoring. ATSD now has the capability to ingest and analyze nmon files and data.
This addition shapes ATSD into a fully capable IT monitoring solution that provides strong data analytics, capacity planning, and visualization.
The Axibase Time Series Database road-map covers integration with both existing and emerging system monitoring solutions. Adding direct support for the nmon system performance monitoring tool was a logical step as ATSD comes with built-in analytics, visualization, alerting and forecasting features.
"We considered uploading nmon files manually and generating reports, in Excel or other third party tools, was generally inefficient. Our nmon integration is in real time, provides trusted statistics and great visualization!" – said Heinrich von Keler, VP of Marketing at Axibase.
Nmon data is streamed directly into ATSD as it is collected and written into the nmon file, making it instantly available for analysis and visualization. Thanks to this feature, system administrators can leave active monitoring in the capable hands of ATSD. Between the Analytical Rule Engine and Forecasting features, the administrator will always be informed in advanced of any potential performance issues and can plan capacity accordingly.
Nmon's highly reliable statistics and minimal performance footprint make it the logical choice for AIX and Linux system performance monitoring.
There are two methods of automatic data ingestion from machines gathering nmon statistics:
The End of Day method uploads the nmon file every night which results in a time gap between data recording and its availability in the ATSD for analyzing, visualizing, and forecasting.
The Streaming method uploads the data into the ATSD as it is written in the nmon file using the sender script. As a result, there is no time gap between data recording and its availability in the ATSD. This method takes full advantage of ATSD's Rule Engine, Forecasting and Real-Time Portal capabilities.
ATSD now installs with two built-in predefined portals created specifically for nmon data, allowing to immediately capitalize on your nmon data.
Custom portals that can be effortlessly created using built-in HTML5 widgets:

Axibase has also released a new fork of the nmon tool, tailored for virtual machine and Amazon EC2 monitoring, with new CPU Steal Time metrics monitored. Read more:
Axibase nmon forks: https://github.com/axibase/nmon/
Get started with nmon using our guide, or continue reading the introduction to nmon system performance monitoring article below.
Introduction to NMON Performance Monitoring
Nmon is a system performance monitoring tool designed specifically for the AIX operating system by Nigel Griffiths at IBM. The nmon tool is very simple to install and use. Once enabled, it provides in-depth performance statistics that cover all major system components. Nmon has very limited impact on system performance and is commonly used to monitor production infrastructure.
Nmon is installed on AIX 5.3, 6.1 and newer versions by default. On older AIX versions 4.1.5, 4.2, 4.3, 5.1 and 5.2, nmon can be manually installed.
Nmon is gaining popularity for monitoring Linux systems. On Linux, nmon is an open source tool that is available as a free download. Nmon can be downloaded as a pre-compiled binary, or the source code can be downloaded for manual compiling. All major Linux distributions are currently supported: Ubuntu, RHEL, CentOS, Debian, Fedora, Mint, SLES, and OpenSUSE.
SARMON is the community driven port for Solaris monitoring. It was originally developed, from the SAR tool on Solaris, by adding a few hooks in order to render system activity in nmon file format. SARMON currently supports Solaris versions 10 and 11.
Official nmon resources:
The nmon tool collects performance data. Primary categories include:
CPU utilization
Memory use
Kernel statistics and run queue information
Disks I/O rates, transfers, and read/write ratios
Free space on file systems
Disk adapters
Network I/O rates, transfers, and read/write ratios
Paging space and paging rates
CPU and AIX specification
Top processors
IBM HTTP Web cache
User-defined disk groups
Machine details and resources
Asynchronous I/O *AIX only
Workload Manager (WLM) *AIX only
IBM TotalStorage Enterprise Storage Server (ESS) disks *AIX only
Network File System (NFS)
Dynamic LPAR (DLPAR) changes *only pSeries p5 and OpenPower for either AIX or Linux
The nmon tool is helpful in collecting important system performance information and dynamically updating it. This efficient tool works on most AIX and Linux systems. The nmon tool usually consumes below 2 percent of CPU cycles and well below one percent on newer machines.
All data collection and monitoring happens with a single binary. The installation process simple, either run an apt-get command or unpack an archive. Once installed or unpacked the tool is ready to start monitoring the system with no further configuration required.
The nmon tool saves the captured data to a text file for later analyzing and graphing. It is easy to parse the resulting nmon files with third party systems, like the Axibase Time Series Database which runs data analytics, visualization, and forecasts on the collected nmon data.
The nmon file also contains a header that shows the system's configuration properties. With all changes recorded, nmon is a great source for tracking change.
Use our guide to start monitoring your system performance with nmon.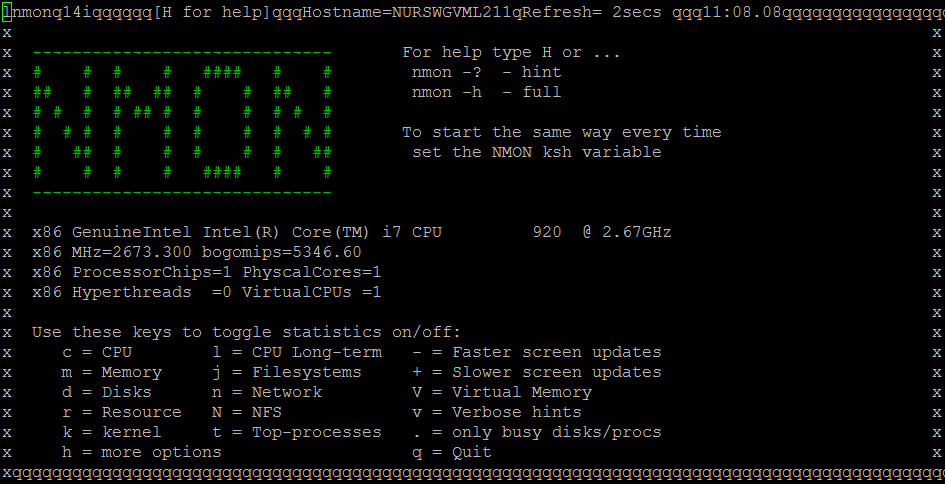 Long Term CPU Averages, CPU Utilization and Memory Stats – Real Time View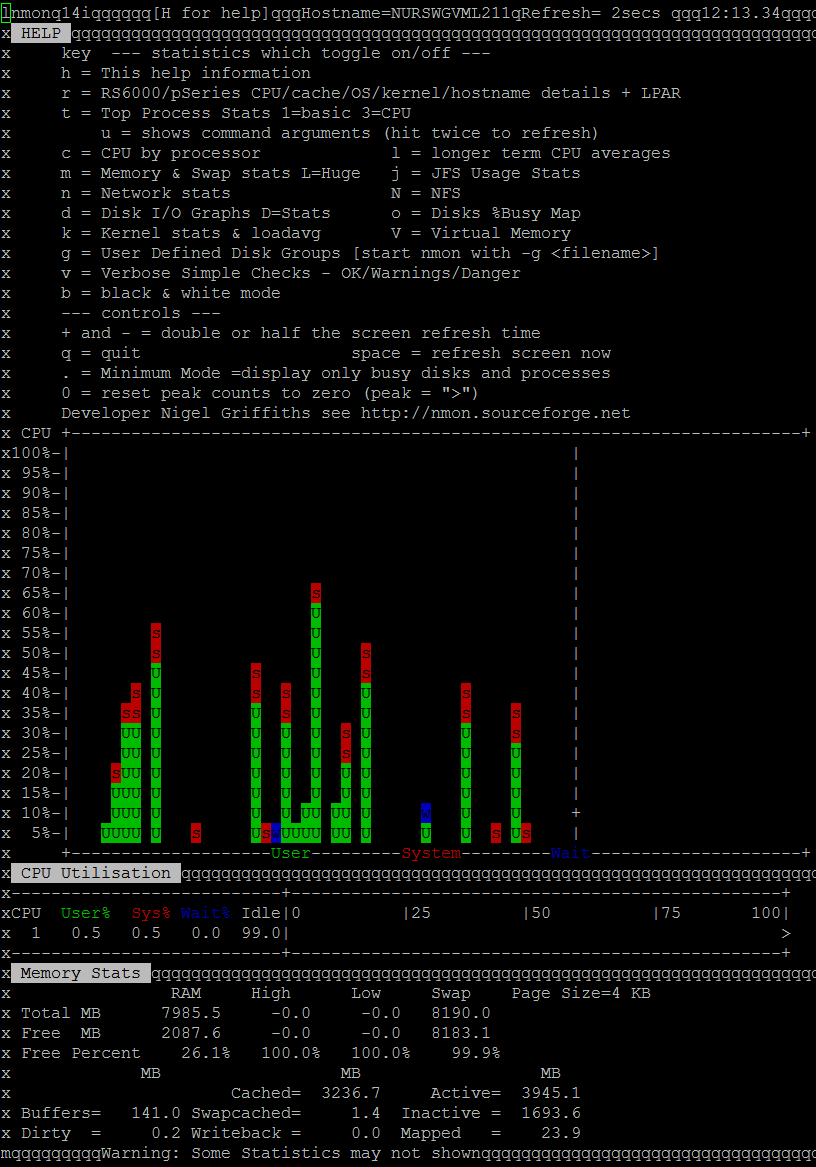 Axibase Time Series Database Nmon Data Visualization
ATSD can visualize all collected metrics, including a handful of derived metrics (computed by ATSD when nmon data is streamed or uploaded). Metrics can be visualized individually or grouped depending on the widget or the users needs.
Custom portals can be created by combining multiple widgets. This offers endless customization possibilities and displays all of the key statistics on one page.
Higher level aggregations, like average or 99 percentile, can be applied to the statistics before displaying them in the portals. They can also be applied in the portal directly, using the GUI which gives full control over the displayed data.
The portals and widgets are updated on the fly as data is streamed into the ATSD from the target machine monitored by nmon. This results in virtually no delay between data recording and visualizing.
To predict issues and failures at early stages, Forecasting can be enabled for the required metrics.
To learn more about big data visualization in ATSD, please refer to the Visualization and Widget guides.
Detailed CPU Usage Time Chart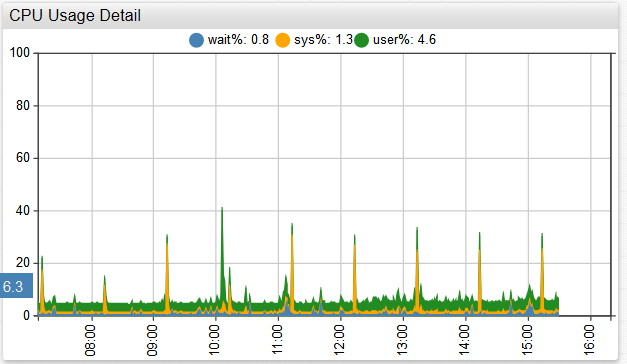 Detailed Memory Usage Time Chart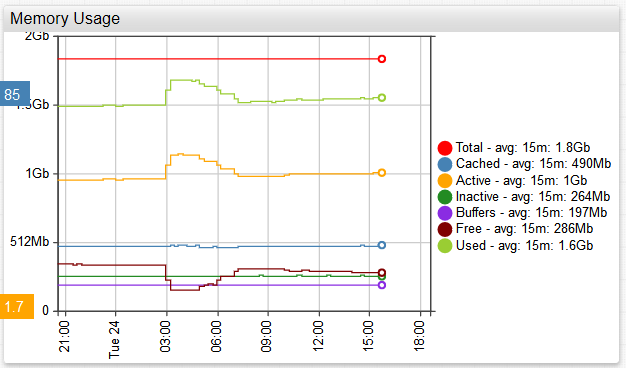 Built-in Nmon Data Portal for AIX Systems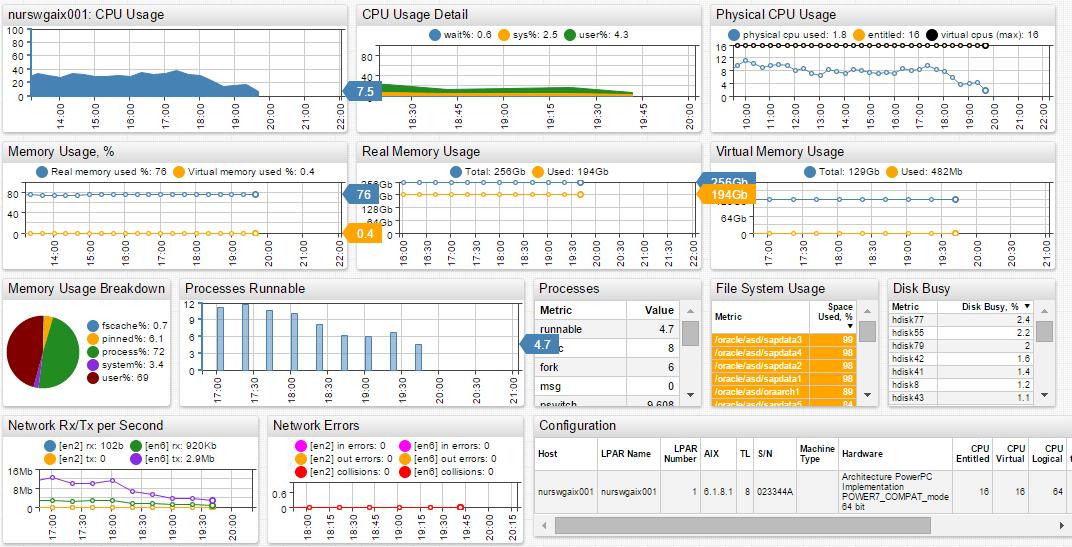 Built-in Nmon Data Portal for Linux Systems