Storage Driver Configuration
Overview
Data retrieved by Axibase Collector from external data sources is persisted by Collector in one or multiple ATSD databases configured on the Admin > Storage Drivers page.
By default configuration, all jobs running in the Collector transmit data into the same ATSD instance using a single shared storage driver.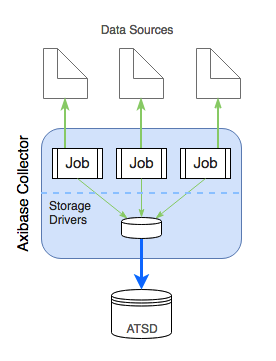 The storage driver sends data into ATSD over HTTP protocol.
With advanced configuration, each job stores data in a specific ATSD instance using multiple storage drivers.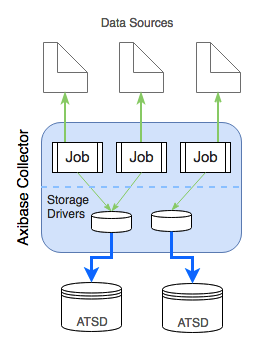 Requirements
To store data in a specific ATSD instance, Collector uses a restricted user account defined in the target ATSD instance and authorized to write data and metadata for all or specific entities.
Create a collector account on the Settings > User Accounts page in the ATSD web interface.
Initial Configuration
If a storage driver is not yet configured, the database prompts you to create one on initial login.
Specify the hostname or IP address of the target ATSD server.
Specify https service port address. The default is 8443.
Enter collector account credentials.
Click Validate to verify settings. In case of permission errors, ensure that the collector account has both API_DATA_WRITE and API_META_WRITE roles.
If validation is successful, click Save to create the storage driver. Collector automatically creates an HTTP connection pool and a storage driver based on the submitted settings.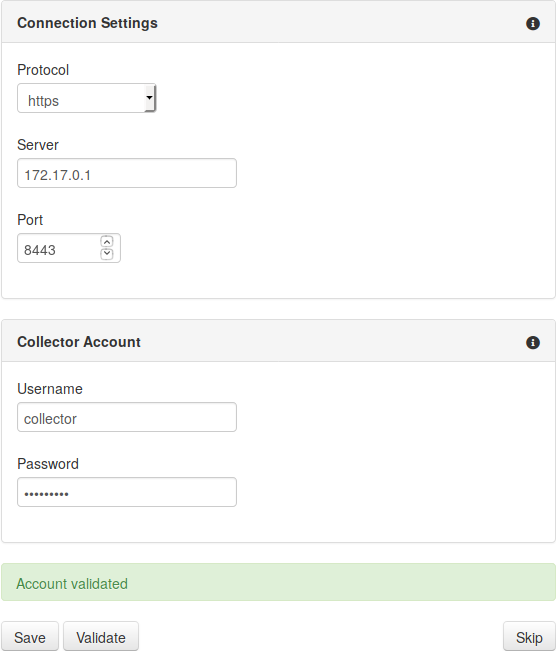 Storage Driver
Storage drivers are enumerated on the Admin > Storage Drivers page.
To create a new storage driver, open the Storage Drivers page and click Add.
Choose an existing HTTP connection pool from the HTTP Pool drop-down list or create a new pool by clicking the plus icon.
Click Test to verify settings.
If Collector has multiple storage drivers defined, each job can be configured to send collected data into a specific ATSD instance.

HTTP Pool
The Collector transmits data into ATSD via HTTP protocol. The HTTP connection pool settings contain various limits and timeouts applied to HTTP connections initiated by Collector when sending data into ATSD.
Create a New Pool
Open the Data Sources > HTTP Pools page in the top menu and click Add.
Enter a pool name.
Enter the hostname or IP address to the target ATSD server.
Specify port 8443 and select https protocol.
Clear Ignore SSL Certificate Errors if the target ATSD SSL certificate is trusted (not self-signed).
Set timeouts and limits based on the recommended settings below.
Select Authentication Type=BASIC, enter collector account credentials.
Set Test Path to /ping.
Click Test to verify settings.
If the settings are valid, the test displays 200 OK status.
In case of 4xx status codes, refer to ATSD Authentication Codes for troubleshooting.
Sample HTTP Pool used by storage driver: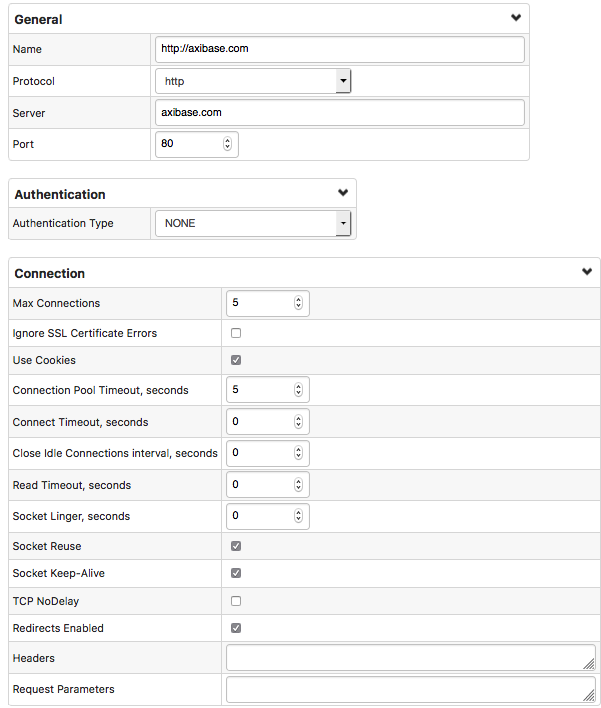 Recommended Pool Settings
| Setting | Value |
| --- | --- |
| Max Connections | 16 |
| Use Cookies | false |
| Connection Pool Timeout | 15 |
| Connect Timeout | 15 |
| Close Idle Connections interval | 60 |
| Read Timeout | 15 |
| Socket Linger | 0 |
| Socket Reuse | true |
| Socket Keep-Alive | true |