SolarWinds
Overview
SolarWinds provides multi-vendor network, server, and application monitoring software for small and medium-size environments.
SolarWinds Monitor products collect and store statistics from target devices in a Microsoft SQL Server database (SolarWindsOrion), which Axibase Collector queries every 5 minutes to offload incremental data into Axibase Time Series Database for long-term retention and operations analytics.
Requirements
SolarWinds Server & Application Monitor 6+
Installation Steps
Import SolarWinds JDBC job
Configure SolarWinds Database Connection
Open the Data Sources > Databases page and select the solarwinds database.
Provide connection parameters to the target SolarWindsOrion database as displayed below: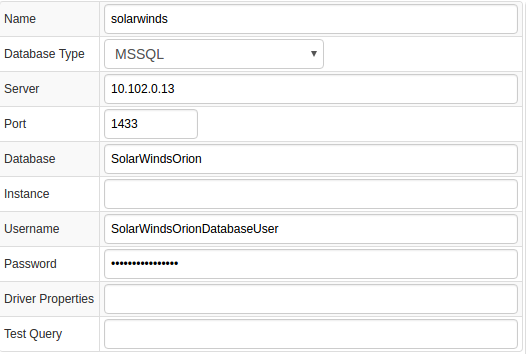 Execute test query to check the connection:
SELECT 1

Query result must be Query OK.
Verify Job Configuration
Open the SolarWinds job.
Set Data Source to solarwinds.

Choose one of target ATSD instances if your Collector instance is connected to multiple ATSD servers.
Save the Job.
Open each configuration, click Test, and review the output. See Data Queries below.

Schedule the Job
Open the JDBC Job page and click Run for the SolarWinds job.
Ensure that the job status is COMPLETED and Items Read and Sent commands are greater than 0.

If there are no errors, set job status to Enabled and save.
Verify Metrics in ATSD
Log in to ATSD.
Click the Metrics tab and filter metrics by prefix sw.*.
Viewing Data in ATSD
Metrics
Properties
Entity Groups
solarwinds-base
solarwind-vmware-vm
solarwind-vmware-host
solarwind-vmware-cluster
Portals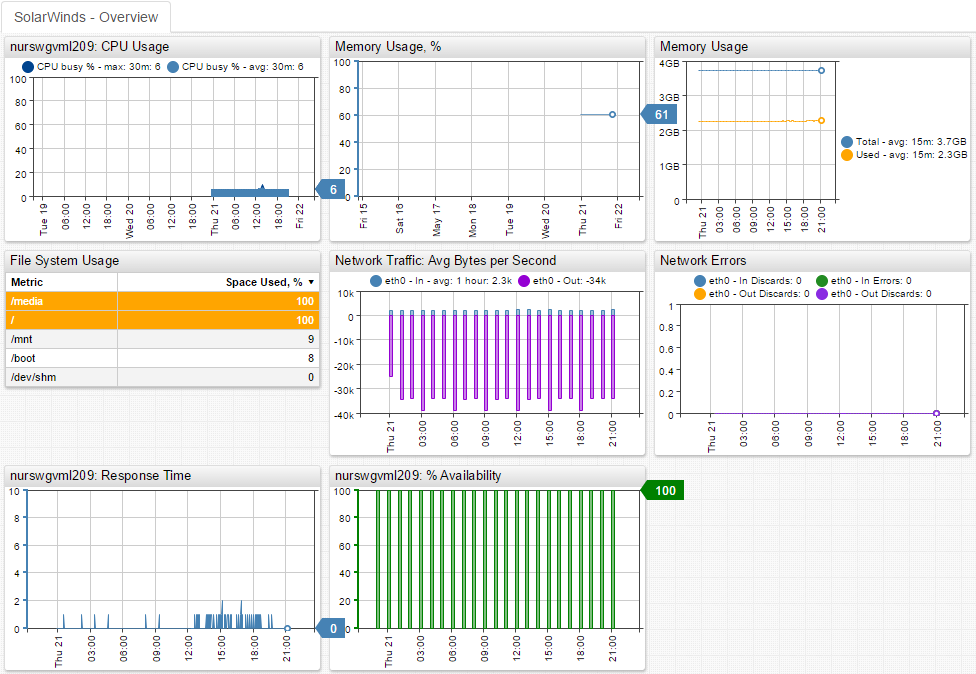 SolarWinds: VMware VM
SolarWinds: VMware Host
SolarWinds: VMware Cluster
Data Queries
Data queries that offload recent metrics and properties.