Oracle Enterprise Manager
Overview
Oracle Enterprise Manager (Oracle EM) is a distributed application for centralized monitoring, diagnosing, and resolving issues related to Oracle products.
Oracle EM collects and stores statistics from remote databases, applications, and systems in an Oracle database (SYSMAN.gc$metric_values table) which Axibase Collector queries every 15 minutes to offload incremental data into Axibase Time Series Database for long-term retention and operations analytics.
Requirements
Oracle Enterprise Manager 11+
Installation Steps
Import Oracle EM JDBC Job
On the Jobs page select Import from the split-button below the table and upload the oracle-em-jobs.xml file.
Configure Oracle EM Database Connection
Open the Data Sources > Databases page and select the OracleEM database.
Provide connection parameters to the target Oracle EM database as displayed below: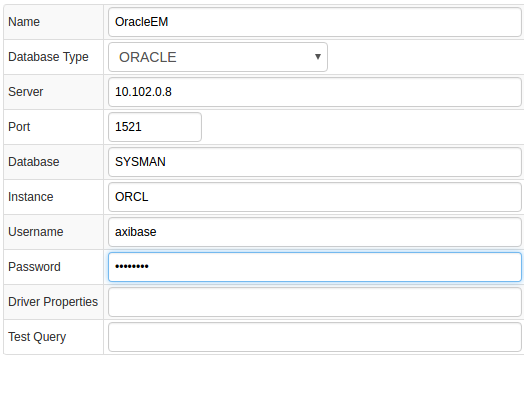 Read-only/SELECT privileges to SYSMAN.GC$TARGET and SYSMAN.gc$metric_values tables are sufficient.
Execute test query to check the connection:
SELECT NULL FROM dual

Click Meta Data and check that the SYSMAN schema is present in the list of schemas.
Verify Job Configuration
Open Oracle EM JDBC job.
Set Data Source to OracleEM.

Choose one of target ATSD instances if your Collector instance is connected to multiple ATSD servers.
Save the Job.
Open each configuration, click Test, and review the output. See Data Queries for more information.

Schedule the Job
Open the JDBC Job page and click Run for the Oracle EM JDBC job.
Ensure that the job status is COMPLETED and Items Read and Sent commands are greater than 0.
If there are no errors, set job status to Enabled and save the job.
Verify Metrics in ATSD
Log in to ATSD.
Click the Metrics tab and filter metrics by name oem.*.

Viewing Data in ATSD
Metrics
Properties
Entity Groups
oracle-databases
oracle-hosts
Portals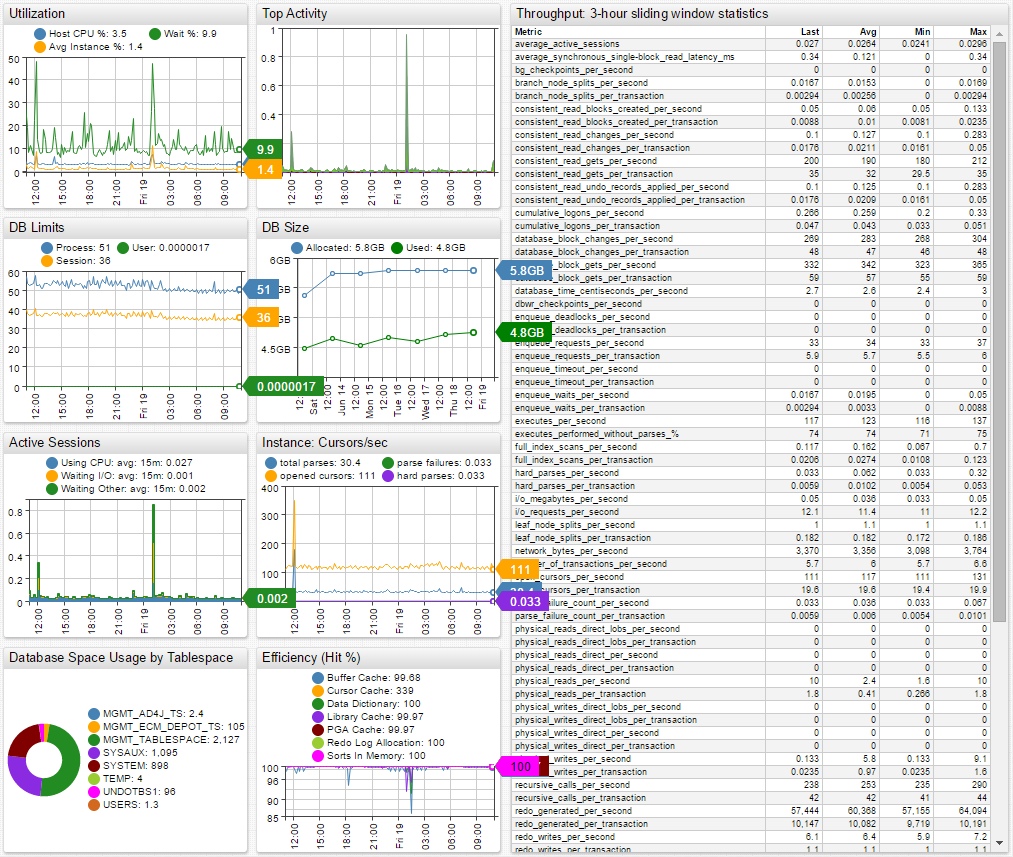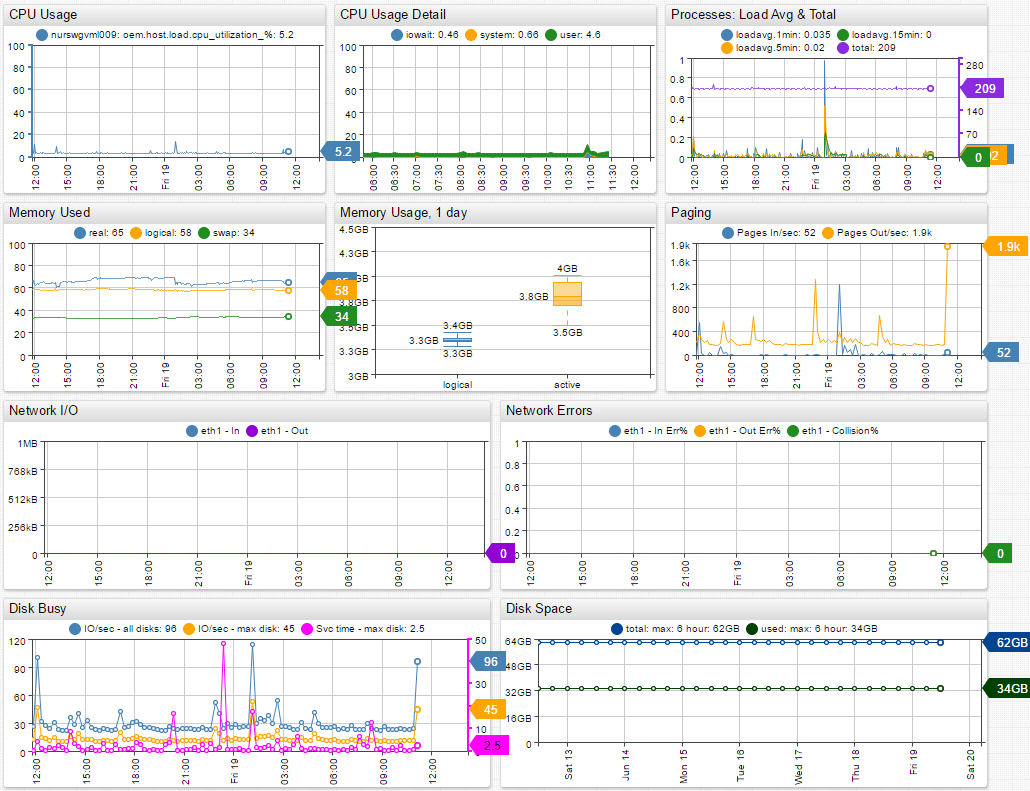 Data Queries
Metrics Queries select most recent statistics
SELECT ENTITY_NAME, ENTITY_TYPE || '.' || REPLACE(REPLACE(METRIC_GROUP_LABEL, ',', ' '), ' ', '_') || '.' ||
REPLACE(REPLACE(TRIM(REPLACE(REPLACE(REPLACE(REPLACE(METRIC_COLUMN_LABEL, ' - ', '-'), ',', ' '), ')', ' '), '(', ' ')), ' ', '_'), '__', '_') AS METRIC,
NULLIF(KEY_PART_1, '%') AS KEY, NULLIF(KEY_PART_2, '%') AS KEY_2, NULLIF(KEY_PART_3, '%') AS KEY_3, NULLIF(KEY_PART_4, '%') AS KEY_4,
NULLIF(KEY_PART_5, '%') AS KEY_5, NULLIF(KEY_PART_6, '%') AS KEY_6, NULLIF(KEY_PART_7, '%') AS KEY_7, COLLECTION_TIME_UTC, VALUE
FROM SYSMAN.gc$metric_values
WHERE ENTITY_TYPE = 'oracle_database' AND METRIC_GROUP_LABEL_NLSID IS NOT NULL AND COLLECTION_TIME_UTC >= ? ORDER BY COLLECTION_TIME_UTC

SELECT ENTITY_NAME, ENTITY_TYPE || '.' || REPLACE(REPLACE(METRIC_GROUP_LABEL, ',', ' '), ' ', '_') || '.' ||
REPLACE(REPLACE(TRIM(REPLACE(REPLACE(REPLACE(REPLACE(METRIC_COLUMN_LABEL, ' - ', '-'), ',', ' '), ')', ' '), '(', ' ')), ' ', '_'), '__', '_') AS METRIC,
NULLIF(KEY_PART_1, '%') AS KEY, NULLIF(KEY_PART_2, '%') AS KEY_2, NULLIF(KEY_PART_3, '%') AS KEY_3, NULLIF(KEY_PART_4, '%') AS KEY_4,
NULLIF(KEY_PART_5, '%') AS KEY_5, NULLIF(KEY_PART_6, '%') AS KEY_6, NULLIF(KEY_PART_7, '%') AS KEY_7, COLLECTION_TIME_UTC, VALUE
FROM SYSMAN.gc$metric_values
WHERE ENTITY_TYPE = 'host' AND COLLECTION_TIME_UTC >= ? ORDER BY COLLECTION_TIME_UTC

Properties Query selects current properties
SELECT 'oem.' || TARGET_TYPE AS TTYPE, TARGET_NAME, HOST_NAME, DISPLAY_NAME, TIMEZONE_REGION, TYPE_QUALIFIER1 AS TYPE
FROM SYSMAN.GC$TARGET
WHERE TARGET_TYPE IN ('host', 'oracle_database')