PI Server
Overview
This document describes how to copy PI Tag attributes from a PI Server into the corresponding metric fields in Axibase Time Series Database.
The process requires enabling a JDBC job in Axibase Collector.
Attributes
| PI Tag Attribute | ATSD Metric Attribute | Type |
| --- | --- | --- |
| tag | name (lowercased, normalized) | field |
| tag | label | field |
| descriptor | description | field |
| zero | min | field |
| zero + span | max | field |
| engunits | units | field |
| step | interpolation (0=>linear, 1=>previous) | field |
| pointtypex | data type (converted to ATSD type) | field |
| creationdate | creation_date | tag |
| digitalset | digital_set | tag |
| pointsource | point_source | tag |
| pointtype | point_type | tag |
| pointtypex | point_data_type | tag |
| typicalvalue | typical_value | tag |
In addition to copying PI Point attributes, the job can be configured to populate the metric Timezone field based on the selected timezone identifier.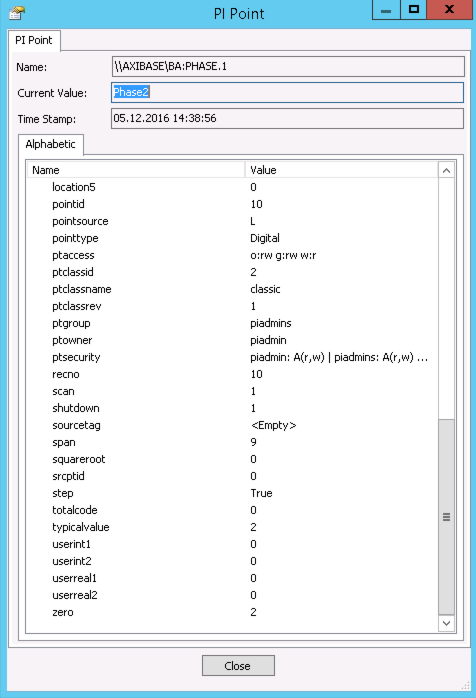 ATSD Metric Info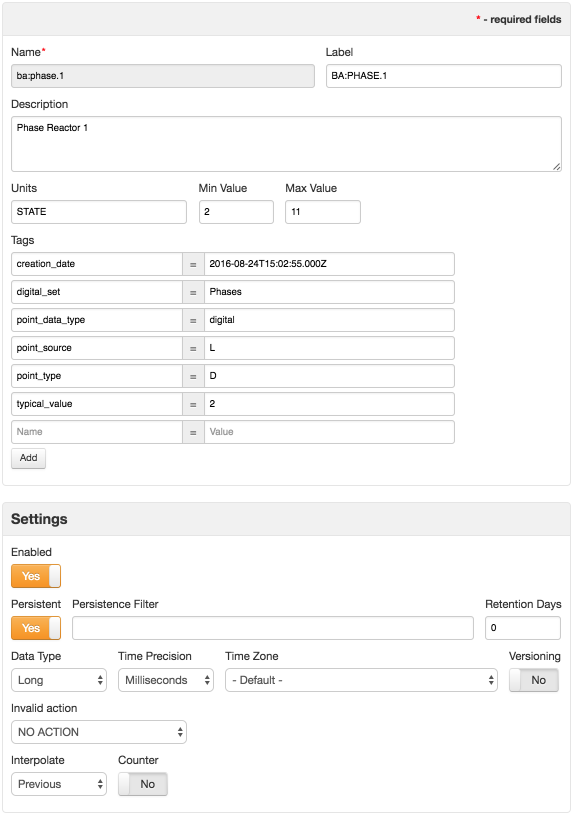 Requirements
PI SQL Data Access Server 1.5+
PI JDBC Driver 1.5+
Installation Steps
Provide Axibase Collector with PI JDBC Driver
Install the PI JDBC Driver:
cd

 

$PATH_TO_PI_JDBC_DRIVER_ARCHIVE




tar

 -xzvf pijdbc_2016-x86-x64_.tar.gz


cd

 pijdbc_2016-x86-x64_/pipc/jdbc


sudo

 ./install.sh


sudo

 

chown

 -R 

$USER

 /opt/pipc

Copy the PI JDBC Driver to the Axibase Collector ext folder:
cp

 /opt/pipc/jdbc/PIJDBCDriver.jar 

$AXIBASE_COLLECTOR_HOME

/ext/

Restart Axibase Collector:
$AXIBASE_COLLECTOR_HOME

/bin/stop-collector.sh


$AXIBASE_COLLECTOR_HOME

/bin/start-collector.sh

Import PI Server job into Axibase Collector
On the Jobs page, select Import from the split-button below the table and upload the file pi_jdbc_metric.xml.
Configure PI Server Database Connection
Open the Data Sources > Databases page and select the PI_JDBC database.
Provide connection parameters to the target PI Server are below: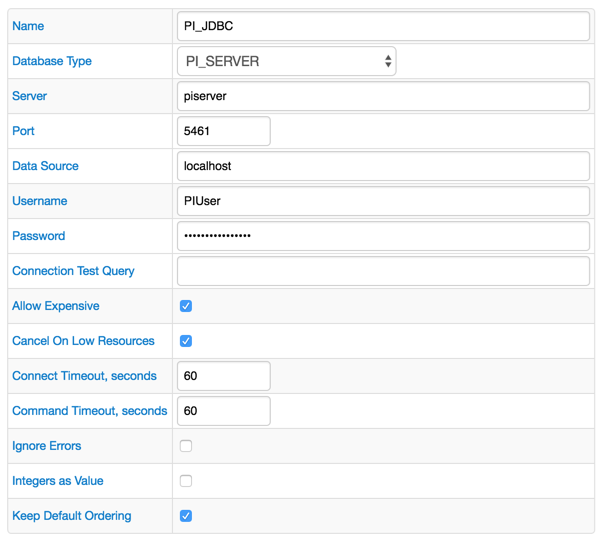 Execute test query to check the connection:
SELECT 1

Query result are Query OK.
Verify Job Configuration
Open the PI_JDBC_META_METRIC job.
Set Data Source to PI_JDBC.

Choose one of the target ATSD instances if your Collector instance is connected to multiple ATSD servers.
Save the Job.
Open each configuration, click Test, and review the output.

Schedule the Job
Open the JDBC Job page and click Run for the PI Server jobs.
Ensure that the job status is COMPLETED, and Items Read and Sent Commands are greater than 0.

If there are no errors, set the job status to Enabled and save the job.
Verify Metrics in ATSD
Log in to ATSD.
Open the Metrics tab and filter metrics by name, for example find by prefix ba:. There is a list of exported PI tags: