Introduction
Axibase Charts is a graphics library for visualizing time series data with widgets.
Charts implement a simple, yet powerful, syntax which is closely integrated with ATSD schema to build real-time dashboards with declarative settings.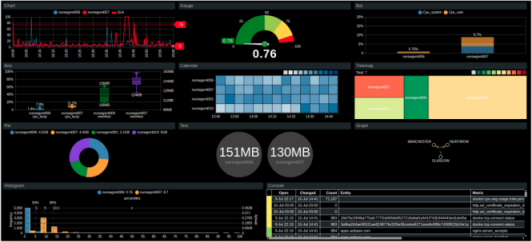 Interactive Analytics
Historical and Streaming Data
Streaming parsing of compressed historical data.
Incremental real-time data loading.
Development Tools
Sandbox Apps
Plugins
The Axibase Charts plugin for the Microsoft VSCode editor is a design tool that simplifies portal development and data exploration.
The plugin implements the following functionality:
Syntax Validation
Syntax Highlighting
Settings Reference
Live Preview
Code Formatting
Auto-completion
Sample Apps
---
Widgets
| Time Chart | Gauge Chart | Bar Chart |
| --- | --- | --- |
| | | |
| Histogram Chart | Box Chart | Calendar Chart |
| --- | --- | --- |
| | | |
| Treemap Widget | Pie Chart | Graph Widget |
| --- | --- | --- |
| | | |
| Text Widget | Page Widget | Alert Table |
| --- | --- | --- |
| | | |
| Series Table | Property Table |
| --- | --- |
| | |